Easy

-DESIGNER

Browse through our templates
and design your card.

Create on
your own

SIMPLY UPLOAD

You have your own complete artwork? Upload file(s) and check the preview.

Upload your
own design
How the sandwich cards
are made
We put three layers of paper together. The layer in the middle (the so called inlay) is coloured. You can choose from five different inlay-colours.
Ultra-thick paper thanks
to the sandwich
technique
The sandwich cards are 1.03 mm thick and have 810 gsm in total.
Feel the difference
Leave a lasting impression with extraordinary sandwich business cards which are 3 times thicker than normal business cards.
Prices
Value Cards (Digital print quality, 810g/m² card stock)
Quantity
single sided
double sided
50

29.98 €

30.98 €

100

49.98 €

51.98 €

250

79.98 €

82.98 €

500

129.98 €

134.98 €

All prices include VAT. and exclude shipping
Click for More Pricing
Specifications
File Specifications
File Size:
88,22mm x 57,22mm
Bleed size:
1,61mm
Final dimensions:
85mm x 54mm
Resolution:
300 dpi
Recommended Colorspace:
CMYK
Double-Sided Card Orientation Guide
horizontal (landscape)
vertical (portrait)
File-plan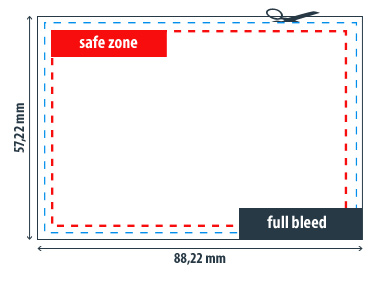 File templates
File Templates - Guidelines and Templates/Start Files for creating your own artwork
Which program would you like to use to design your artwork?
Please note the guiding lines and their meaning
File Format (Full bleed size):


Backgrounds need to extend all the way to this size.

Cut line:


Cards are cut here. A small trim tolerance is possible (see Design Tips).

Safezone:


Please make sure that the objects which are not supposed to be cut off are within that zone.
Hints about saving files
Use CMYK colour mode
Save PDF as Acrobat 4 (pdf 1.3) with "High-quality printing"
Save jpg or tiff in highest possible quality
do not exceed 24 MB per side
processing time and shipping:
Option:
Cost:
Duration:
Delivery Time:
* Without Package Tracking ** With Package Tracking
Prices valid only for 1 set. Cost for multiple sets available here.